HOME>
Theme Party >
Theme Party Showroom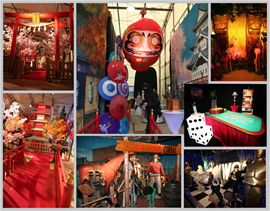 As the old proverb goes, "Seeing is worth a thousand words."
True to this maxim, this showroom provides a golden opportunity to view props, decor and other imaginative expressions of various fascinating themes.
It goes without saying, furthermore, that we will also be delivering informative explanations of productions of theme parties, "Wow Effects" and various other concepts put into action in the past.
We await your visit to our Theme Party Showroom, where you will see everyday events transformed into special and stimulating experiences.
*

Free pickup service at Shinkiba Station available upon request. Please call us for an appointment at +81 3 3522 7511.
Featured in the Special Events Magazine Click for a full sized image